You knew it was coming. My favorite plugins for WordPress. This platform never ceases to amaze me. I have some of these listed on my Resources page, but I have a feeling this list is going to grow longer the longer I'm on WordPress. If you haven't heard of these, I hope you'll consider installing them to improve your WordPress experience!
1. Akismet
Akismet – this one is pretty self-explanatory. Spammers love WordPress. And there's a reason. When you comment on WordPress, you have the option of linking back to your website. The more links back to your site, the better rankings you get on Google search results. In order to reduce these spammers, Akismet is needed. (P.S. Blogger also lets you do this, but you don't get a pretty gravatar picture!)
2. Jetpack
Jetpack Plugin for WordPress – Is amazing. You don't have to go searching for it because WordPress urges you to install it. JetPack has many, many things to offer. It gives you detailed site statistics for the past 48 hours, it provides that Facebook plugin in my footer, a widget that displays your recent tweets, and more! You have to create a WordPress.com account (which really isn't that much work) in order to start using it, but it's well worth it. With this plugin I can track how my pageviews are climbing back up again after migrating to WordPress (it can take about a month). And I can also track the hits to my site from search engine searches (and the search terms). Neat!
3. Editorial Calendar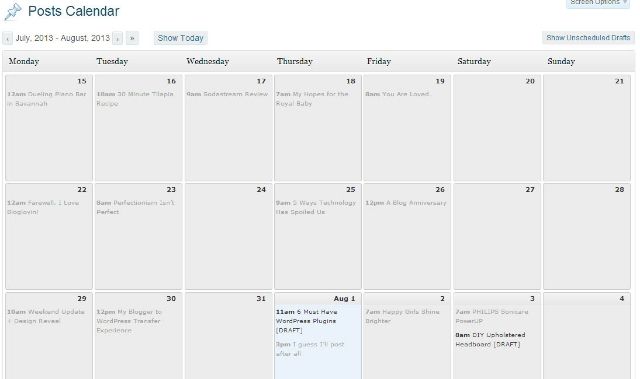 The Editorial Calendar plugin will be one of your best friends. You can drag drafts (and posts if you wanted to) around on your calendar and visually map out your posts. It's amazing. You can even start drafts from the plugin to jot down ideas.