Well look who decided to blog today? This girl. Sorry to disappoint, but I'm not going away any time soon.
Yesterday I ran errands and tried out self-portraits. Let me tell you…it's HARD! I don't know how some people are able to take such great self-portraits of themselves using a camera. (Yeah…they were NOT selfies!). I made my nightstand's lamp into a makeshift tripod. (You unscrew the top holding the shade down and replace it with your point-and-shoot or DSLR. Genius, right?)
Some of the pictures were actually good. Then I got myself a few gems like these:
and this:
Money shots right? I particularly like the shot of my unmade bed. Oops, sorry bed. I didn't quite prep you for picture day at school. I know what you're thinking, "Don't quit your day job, Lisette." Don't worry, homegirl here is enjoying riding the gravy train that's known as the stay-at-home-wife. My husband says he wants to switch off in a year or two so I can work and he can stay at home. Sorry, B. Ain't happening.You'll get over it in time.
Moving on. Yesterday I was reading a few blogs during my errands and came across this gem from Nadine. you gotta hand it to her. She's a genius. Go read it. You'll thank me later. And that's how I got ideas for this post.

5 Ways Technology Has Spoiled Us
1. HDTV
How I ever opted to watch standard def TV while having an HDTV in another room is beyond me. Hey, that just rhymed and I didn't even try! (Last time, I promise!) I used to think people were snobs for insisting on watching football games on HDTV. I personally don't watch sports, so I couldn't for the life of me understand this…until I went to a Superbowl party one year and saw every single blade of grass. From that moment on, I was sold. On HDTV, that is, not football. Sorry guys.

Now I find myself glaring at my husband if he dares watch a show on the standard-def channel when it's available on its HD counterpart. Spoiled.
2. Interactive Maps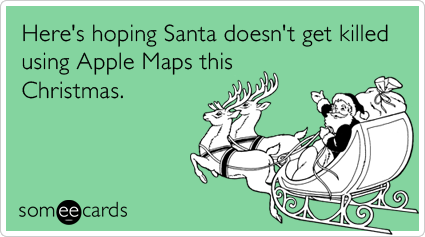 I'm not only talking about the map apps available on every smart- and dumb-phone out there. I'm also talking about the ones installed in our cars and our desktop versions. When was the last time you actually picked up a paper map besides for a cool photo opp? If you're anything like me, probably not since 1995. Which brings me to my next point…
3. The Internet
Am I the only one that remembers a time when there was no such thing as the Internet? Anyone? Bueller?

Well crap. I remember when my parents refused to pay America Online for this new fad. Why? The Internet is the DEVIL. If you've ever watched Adam Sandler's The Waterboy you remember his mother's character.

Swap her out with two Hispanic parents and the words
little girls
with
the Internet
and you had my life in 1998. They straight up thought that
www
stood for
666
in some Satanic language that no one speaks. Thank God for public libraries. I can't go one day without the internet now. I think my head will implode.
Raise your hand if you remember having to schedule "talk time" with "internet time" in the days of dial-up.
4. GIFs

WHERE HAVE YOU BEEN ALL MY LIFE? Admittedly, I had no idea what these little things were until I started blogging. Who needs to write a novel when you can convey what you're saying in one little GIF?


5. Google


Enough said.