Happy Friday loves!
I haven't decided yet whether or not I want to make freebies a weekly thing, but it's been forcing me to get my creative juices flowing. As an artist (and musician, at that) I need artistic stimulation to feel happy. I think it's the reason why I've been feeling sad lately.  I was born with music in my veins and for the past year, I'm ashamed to admit, I haven't nurtured that part of me.
Yesterday one of my bloggy BFFs, Amanda, posted an Instagram video of herself playing chords on the keyboard to one of Pink's songs, it stirred something in me. So, I took it as a challenge and did the same with my froggy voice at 9am. You can listen and watch here. It's not my best singing, but I'll take it! (By the way, reading sheet music, singing, playing the harmony and holding up an iPhone to video tape it is HARD! Amanda did a great job!).
I was a little offended, but more so hurt by the racism and bigotry certain individuals displayed on Twitter this week. An American singer, Marc Anthony, who is also Hispanic, was selected to sing at the opening of the All-Star Game in Citi Field (formerly my Shea Stadium) in Queens. This was a baseball stadium I frequently went to in my childhood growing up in New York City. In a nutshell, these so-called "Americans" were offended that an "un-American" singer was singing God Bless America. Not only were they incorrect in assessing his nationality (born and raised in NYC like me, thank you very much), but they also said he "didn't look like he was from NYC.". I was so upset that it took me hours to clear my head and my heart. You can read the Tumblr account that summarizes it here.
As a Hispanic born to immigrant parents, and as a trained singer, I felt deeply wounded by this ignorance. Does it affect my everyday life? No. But sooner or later, I will be asked to sing the national anthem at an event, or some other patriotic song. And instead of those exciting nervous chills before a performance, where I'm praying I don't forget the lyrics, I'll now be wondering "Will someone in the audience hate that I'm not white?" It's probably something I shouldn't hold on to, but as a performer, you have a million insecurities running through your head at any given moment. The color of your skin should not be one of them.
Last night I was wondering what phrase to use in a phone background. I decided we all need a little reminder from time to time that we are loved. Everyone has someone that loves them. Maybe people don't verbally say it, maybe they say it in a touch or through a little act of service. In one way, shape, or form, YOU. ARE. LOVED.
I am trying something new. The links below lead  you to the image on Photobucket for download. Please let me know if this iPhone wallpaper is easier for you to download. I'd like for you to be able to download the wallpaper on your phone, as opposed to downloading it to a desktop and e-mailing it to yourself. I also made it in two different sizes for the iPhone 4/4S and iPhone 5, but if you have a different resolution either should work for you!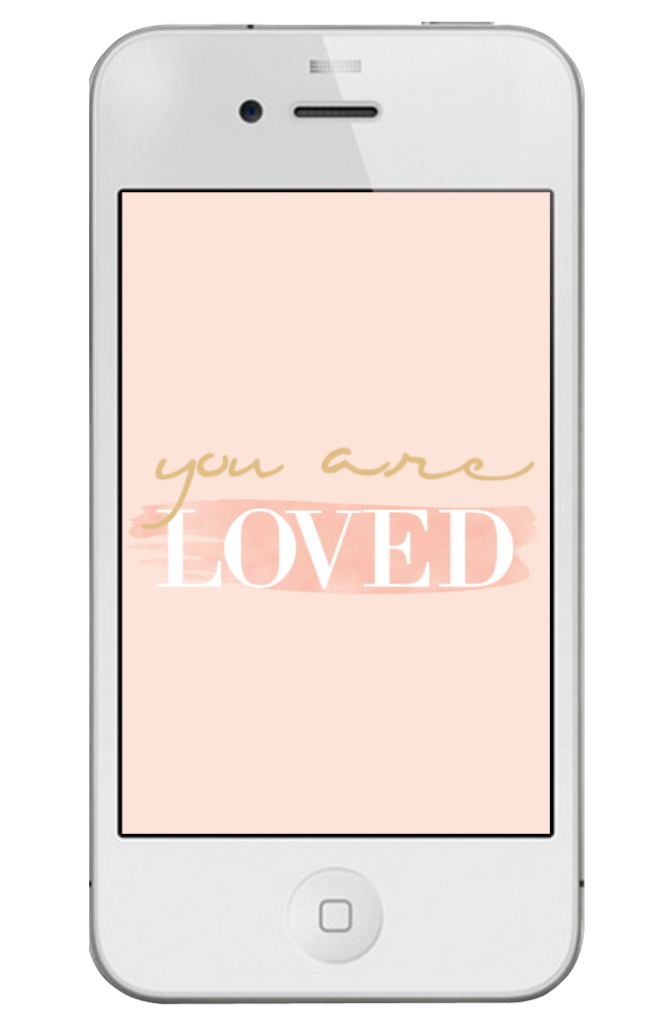 click to download for:
Enjoy! Have a safe and loving weekend everyone!
P.S. Patricia organized a great giveaway. See it here!