Let's think about this for a second.
Santa Claus just is White.
How does that make you feel? I can tell you one thing. If it doesn't make you want to shatter something against the wall, you and I probably shouldn't be friends. Well, maybe not a wine glass. That would be a terrible thing to waste. Especially if there's wine in it.
Yes, when I was a little kid and my innocence did not allow me to distinguish people of different races, my Santa Claus was white. Now that I'm an adult, my Santa Claus looks more like a Mastercard with racially indistinguishable interest rates. I don't think little kids care what race their Santa is. I'm sure they won't care after they set their eyes on that shiny new toy. Heck, they'll even like a green Santa when The Grinch is on TV.
Does it really matter the race of the person when they're breaking into your house and wiping out your milk and cookie stash? Apparently it does on Fox News.
That statement up there was what Megyn Kelly, a Faux News anchor, said on the air. It was in response to this article on Slate.com, where the writer, Aisha Harris, comically writes that a jolly husky white-beared Santa should be replaced by a penguin. Her point is actually compelling. I encourage you to read it. But back to the comedy. It gets better.
For all you kids watching at home: Santa just is White. Santa is what he is…Jesus was a white man too…Just because it makes you uncomfortable doesn't mean it has to change! – Megyn Kelly
I'm sorry. But was that message for the white kids who would be scared if a Black Santa Claus would come in place of their beloved White Santa? You know, those same kids who hug other kids no matter their race because they're not bigots? Or better yet, are you talking to kids who are up past their bedtime? If we are talking about adults who behave like spoiled children, probably.
Let's forget for a moment that most of the depictions we have of Jesus today were painted by artists in Europe during a time that most Europeans were white. Let's forget about that. Instead, let's play a game of "reality." Where does the historical Jesus come from? You know, the real one. The one that even is mentioned in the Koran? Megyn, let me tell you…and sit down for this one…THE MIDDLE FREAKING EAST. Do you know what people there look like? The vast majority aren't white. Shocker, I know. But wait, don't get up yet.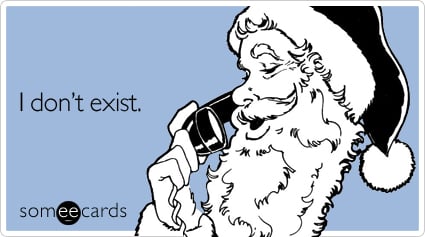 Megyn–I'm gonna let you in on a little secret. Santa Claus isn't real. It's okay if you're upset. I, too, was sad when I found out at the ripe age of 9. It's okay if you still believed in him until today. You must have suffocating and equally as ignorant amazing parents who have bought you presents all your life and put them under the tree for you. They also eat those cookies and milk you set out for your "white" Santa Claus.
Interested in hearing this to believe it? Enjoy.
Oh, and Megyn? I hope "your" Santa leaves you a lump of coal this year. And I hate to break it to you…but coal is, you guessed it. Black.