Happy Election Day!
If you're curious as to who I voted for, tune in tomorrow for Mrs. Bear's
Confessions
!
This is my first time linking up with Loving Lately.  Isn't it a lovely button?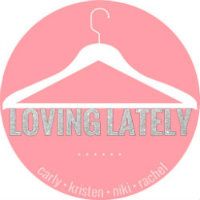 What am I loving lately? 
1. My baby blog's views:
Someone in Australia loves me!
2. The blog community.
  During my shopping trip on Saturday, I challenged myself to find several additions to my wardrobe.  I had so many sweet bloggers helping me in real time while I was at the stores.  I felt so loved!
3.  Twitter
OK.  I know.  I am a tad bit late for that train.  You see, I was too obsessed with Facebook to ever care about branching out to meet new people.  But I love that you have access to your favorite celebrities on their most mundane activities.  Maybe I'm a closet stalker? Hahah!
Please follow me on Twitter!
4. Couponing
Yes,  couponing.  No, I'm not aiming to empty shelves and have my own little bodega in my neighborhood.  (New Yorkers, you know what I'm talking about!)  But ever since we moved to Georgia and I've been the sole grocery shopper, I've been flabbergasted at our expenses at my local Super Walmart.  
5.  Yes to Blueberries!
Such a soothing anti-oxidant serum!  Smells yummy but not overpowering.  Anti-oxidant serums are a MUST under sunscreen to keep those fine lines and wrinkles far, far away!
That's it for today!