If you've never heard of a dueling piano bar you might have your reservations. I didn't because if there's live instrumental music anywhere…I'm down! We went to downtown Savannah with our neighbors and had a blast! I'm not sure I have completely recovered from this weekend. There was lots of eating, drinking, singing and dancing this weekend. My favorite kind!
Savannah Smiles, the local dueling bar, had two pianos and a drum kit on stage. There were two bars and tons and TONS of people. At least two bachelorette parties were there! Here's a snippet of "I've Got Friends in Low Places."
There are multiple pianists that take turns playing covers of popular songs. You write your request on the napkins provided and bring it up to the pianos. The pianist interact with people by putting up crude rotating the  "Phrase of the Night" based on patrons' requests. Anything goes with these requests. You can also pay for someone to be roasted by the pianists. H-I-L-A-R-I-O-U-S. 
Of course, the person who stole the show was my neighbor's father. Her 87 year old father who danced more (and better!) than most of the 20-somethings there. He got down LOW for I Like Big Butts with about 10 other women on stage. He even kissed one! And when a drunk girl from one of the bachelorette parties did the booty shake against him, he rolled with it. There was not a dry face in the crowd! For an old man, Mr. Newton got down. So sad I don't have a clip of that!
After the Savannah Smiles, we headed to World of Beer where I enjoyed a delish Framboise (raspberry beer). It tasted like sparkling wine. We didn't stop there. Sub Zero is a night club across the street that's decked out like an underground ice world. So pretty. By that time I did us all a favor and didn't snap any more pictures. It was hot and humid in Savannah and my hair hated me. #aintnobodygottimeforthat.
B and I took multiple naps Sunday to recover from our extravagant Saturday out. Somewhere in there, my spoiled husband asked me for the most time-consuming snack. Everything bagels with cream cheese, swiss cheese, honey ham, tomatoes, red onion, and salt + pepper. After I presented it to him he asked me, "You didn't toast the bagels?" He's lucky he didn't get a glass of soda in his face. That's all I'm saying. God love him.
I'd like to introduce you to one of my sponsors, Patricia. She and I have grown to be friends despite the Atlantic between us. She's also my French tweeting buddy when the vino so inspires me. My French actually ain't that bad. She's a sweetheart and a champ for pursuing her one true love across the pond. Read more about her here: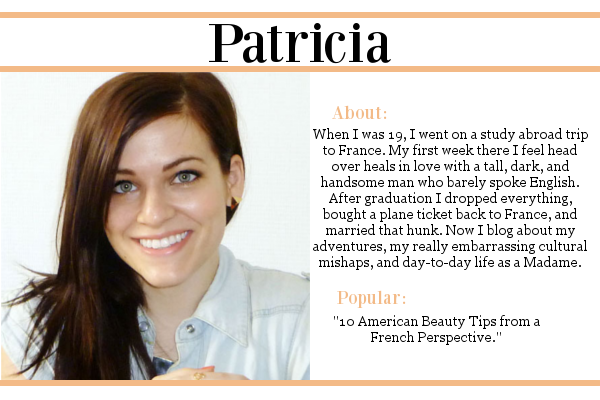 Now let's link up!
Link up after the page break: