Warning: this was a recent date with the husband.  If you were looking for amusement of a first date (or blind date) gone awry, you might want to look elsewhere.
The night started out great! I even did one of those #ootd pictures and uploaded it to Instagram. (How classy is the backdrop of our walk-in closet?) That shirt was one of my finds during my
Saturday fashion challenge
.
The hubs was out of town for the day and we decided to have a late dinner + movie at our favorite date joint, Mellow Mushroom. It was opening night for both 
Lincoln
 and 
Breaking Dawn 2
.  (No, the hubs was not springing for
sparkly vampires
, so 
Lincoln
 it was).   I was expecting a tame (and pink) Cosmo as such:
…but our bartender had a heavy hand (God bless her) and my Cosmo was heavier in vodka than anything else.  (Did you know hunger + alcohol don't mix well?)
We were having such a good time, we decided to watch the 10 pm showing. What on earth compelled me to think I was in my early 20s and able to stay up late is beyond me.  Next thing I know, the movie is in its opening credits and I'm doing the bob.
Not too bad, right?  I really wanted to watch Breaking Dawn 2, but since we never go to the movies (and my hubby works SO HARD), I decided to satisfy his little history nerd inside.  I then fell completely asleep.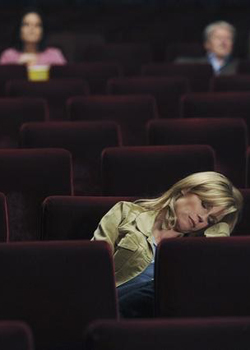 As if that weren't bad enough, I then morphed into this:
and THEN I started…you guessed it…
SNORING
.  Yeah, snoring.  Knowing my luck it was probably during an important (and silent) part of the movie.
After two elbow jabs, I didn't subject my husband to any more embarrassment and quietly exited the movie theatre before someone threw popcorn at us (read: me).
Just for fun, I am sharing two dog-shaming pictures taken when the pups were sleeping.
Here is Chip falling asleep while on a 10-hour trip.  He refused to lay down:
And Daisy in her "beauty" sleep:
As I walked down the hall, I heard Bella's lullaby from the theater room next door.  I knew I should have gone seen that instead.  And maybe, just maybe, had I ran across this video a little earlier, I could have listened to this on my earbuds and stayed awake during Lincoln.
Sorry, Lincoln.  I'm sure your film was amazing, but it just was not in the cards for us that night.