Welcome back to Just Because! Some of you may be wondering why we moved Just Because to Thursdays. Well, it's because I just couldn't be trusted with two link-ups back to back. After forgetting to post early twice, I knew we had to move it. Sorry for any inconvenience! As usual, you can link up a post about ANYTHING. And, we have a new button!
I'm so happy for them! This is something they really, really wanted!
As for me, I keep going back and forth as to whether or not I want to have kids. Yeah, I know. Shocker. I don't know how you parents today make ends meet! Life is so expensive that I have half a mind to keep our lives as simple as possible by delaying kids indefinitely.
We got married four years ago. Last time I checked, being childless and unmarried at 25 does not make you a spinster. Regardless, when I went around gathering mailing addresses, a relative asked me when we were having kids. I dismissed it as small talk. He persisted. Again, I said something along the lines of, "Oh, in time." Then he demanded to know exactly when we were having kids. I exploded. All I saw was red. My response? "I'm inviting you to the wedding, not the delivery room." I know he was kidding, but, c'mon really?
Now that I'm older, people are more and more brazen with their questions. I'm getting really sick of the constant tirade of insensitive annoying questions:
"Do you have kids?" No. "Oh."
"So, when are you having kids?" I don't know.
"Do you plan on having kids?" Yes, but not right now.
"So, you don't have kids?" No, I don't have kids.
"Wait, you really don't have kids?!" I lied. I actually do have kids. But it's a lot easier running errands when I lock them in my trunk. No you, dipshit. I don't have kids.
The oh response is one of the worst. What does it even mean? Oh, I wonder if they are having problems? or, Oh, I feel like crap for asking that. I can guarantee you it's not the latter. My in laws have been very patient, loving, and respectful of our decision to wait. My extended family is another story.
I've started guilt-tripping people. When they ask me all of the aforementioned, I reply with this question: "Has it ever occurred to you that we just might have problems getting pregnant?" The tone of the conversation changes and they drop it…usually.
Do we have problems in that area? We haven't attempted a pregnancy yet, so there's your answer. But what if we did? I feel for the couples that struggle with infertility and are constantly bombarded with these questions. People–can you just mind your business? Sheesh!
So, I get the baby fever and the "chills" over and over again. I don't know when we'll have kids. In the meantime, I am having way too much fun enjoying the adventures of other friends and their terrible wonderful children.
You can't beat that. Sorry
Brin
. Haha. Now, without further ado, link up your posts today!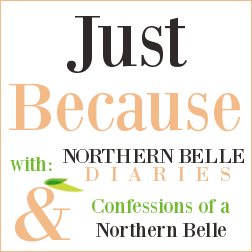 <div class="Just Because-button" style="width: 200px; margin: 0 auto;"> <a href="https://www.lalalisette.com" rel="nofollow"> <img src="http://i1276.photobucket.com/albums/y469/NBelleCreations/May2013/justbecause_zps3431e086.png~original" alt="Just Because" width="200″ height="200″ /> </a> </div>