Hey there. Remember me? I didn't feel like posting today, but then I felt guilty. (Why do I feel guilty? It's my blog). Regardless, I just couldn't contain myself. I was planning on revealing this tomorrow, but I'm too excited by nature and couldn't wait. What did I do most of the day yesterday (and the day before)? Well, this baby right here: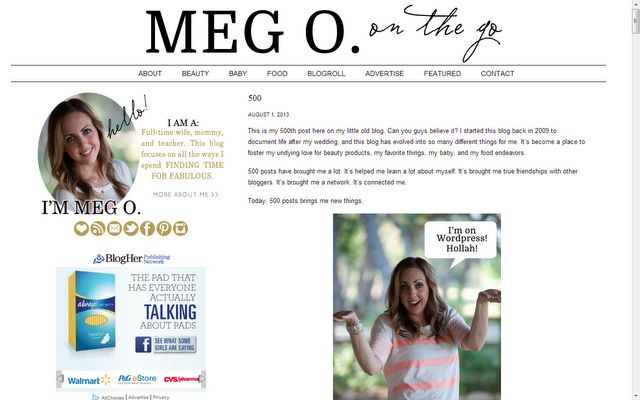 Well, no, I can't claim that I gave birth to her, obviously. Nor did I design her site. Meg's a fabulously talented blogger and did all of that on her own. But what I did do was help her move to WordPress. Yup. She popped my WordPress transfer cherry was my very first Blogger to WordPress transfer client.
To say I was a little nervous is an understatement. I mean, she put her trust in me. All 499 posts. (Psst. Go read her 500th post. Her very first on WordPress. How poetic!) Forget singing in front of thousands of people (which homegirl has also done and made me love her even more), this was real pressure. What if I goofed up? What if I made some colossal mistake? These are things I worry about whenever I'm venturing into something new. I always think in terms of worst case scenario and prepare accordingly. Something my husband hates but will appreciate when we start a family down the road.
And you know what? Things went great. Really great. We both learned some new things during this process. Go read her 500th post. Her experience was NOTHING like the nightmare I experienced during my own transition to WordPress. I made sure of it. I let her know exactly what was happening at every step of the way, and answered her questions as they came in. I guess sometimes when you have a bad experience you wanna make sure the person you're helping doesn't have the same experience.
I have a little confession to make. I think I may like this more than blog design. Maybe. Just a little. So if you're curious about WordPress, web-hosting, or other nerdy blog stuff, just know I'd be more than happy to help you make this transition. And I'll make sure you have a good experience in doing so. Just ask Meg:
When Lisette said she was offering WordPress design services, I immediately emailed her to see if she could help me move from Blogger to WordPress. Not only did she offer that, she was extremely helpful. She moved over my design onto a Genesis WordPress theme and let me see how it looked throughout the process. Girlfriend stayed up way too late making sure everything was working correctly before we did the transfer. And people, this entire process took two days from the initial email. The actual transfer only took a few hours. She is still helping me work my way around WordPress as I get settled. So guys, if you are thinking about migrating over to WordPress, Lisette is your girl. She went above and beyond to help me transition, including texting me and answering any questions (even dumb ones I should know the answer to) along the way. While I am really good with all things technical, I just didn't want to screw the transfer up. She made sure that everything is redirecting the way it should. And all is golden!
I think she approves ;)